Citytax information Potsdam
Sehr verehrter Gast,
für alle gebuchten Übernachtungen, ab dem 01.10.2014, erhebt die Stadt Potsdam eine so genannte Citytax i.H.v. 5% auf den Logisanteil des Übernachtungspreises. Diese Citytax fällt für alle privat veranlassten Übernachtungen an und ist im bestätigten Zimmer- bzw. Arrangementpreis enthalten.
Sofern Ihre Übernachtung beruflich oder geschäftlich bedingt ist, haben Sie die Möglichkeit dies mittels der beiliegenden Formulare glaubhaft zu machen. Wir bitten Sie in diesem Fall, das entsprechende Formular bis zum Vorabend der Abreise ausgefüllt und unterschrieben vorzulegen, bzw. uns im Vorfeld Ihrer Übernachtung zu mailen oder zu faxen.
Bitte beachten Sie, dass die Vorlage des entsprechend ausgefüllten und unterschriebenen Formulars unbedingt vor Abreise erfolgen muss, da wir ansonsten den Citytax-Betrag zunächst berechnen müssen und nachträglich nicht mehr erstatten können. Eine Erstattung kann sodann nur noch über einen formlosen Antrag über nachfolgende Kontaktmöglichkeit erfolgen:
Per Post
Landeshauptstadt Potsdam
Bereich Steuern / Herr Schmidt
Übernachtungssteuer Rückerstattung
14461 Potsdam
Per Fax
0331/289-841433
Weitere Informationen zu diesem Thema, insbesondere zur Definition "beruflich/privat" finden Sie unter der folgenden Webadresse:
http://www.potsdam.de/content/uebernachtungsteuersatzung-0
Wir möchten betonen, dass wir gegen die entsprechende Satzung über unseren Hotelverband Klage erhoben haben und hoffen sehr, dass dieser derzeit leider nicht vermeidbare Aufwand in Kürze wieder entfällt.
Restaurants
The hotel's El Barón restaurant offers Spanish specialities and steak dishes. The Wiener Restaurant & Café, which is also right next to Hotel Am Luisenplatz, offers Austrian specialities like Apfelstrudel and Wiener Schnitzel.
If you need any further information or you like to make a reservation at Restaurant El Barón, please use the following form:
Wiener Restaurant & Café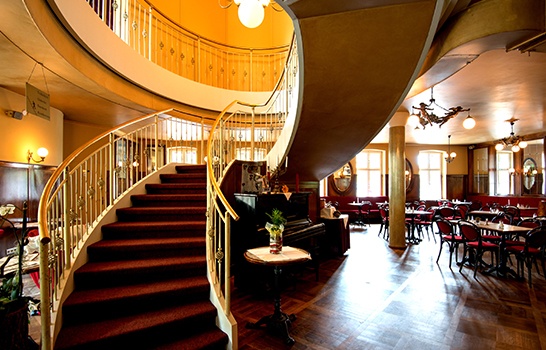 Wiener Restaurant & Café
For more information about the Wiener Café, call the following number or have a look on the website:
+49 (0) 331 /971 900